Executive Committee
Executive Committee
Executive Committee of the Board of Directors
(Effective July 1, 2019 to June 30, 2020)
The Executive Committee is responsible for day-to-day oversight of the administrative and financial functions of the synagogue, subject to the powers of the Board of Directors granted under the Congregation's By-Laws and under California Law.
President: David Spiegel
David Spiegel and his wife, Michelle, have been active members of VBS for over 25 years. David has been on the Board since 2002 and has been on the Executive Committee as VP of Finance, Education and Administration. David has also chaired the Board Governance Committee and been on several other committees. He has been on the Board of the Pacific Southwest Region on United Synagogue and is on the Ziegler Advisory Board. Michelle is past president of the VBS Sisterhood and has been very active in the Valley Alliance. David is a bowling proprietor in the State of Washington and has been a national officer of the BPAA. David and Michelle have two wonderful grown children, both married, Nicole (Micah) Eigler and Daniel (Elysa), and two fabulous grandchildren, Daliya and Toby.
Chairman of the Board: Eric Kingsley
Eric Kingsl
ey and his wife Thalia have been active in VBS since 2001. Eric previously served on the Day School Board from 2007-2013, and served as its President from 2009-2011. Since that time Eric has served on the synagogue board. In other aspects of Jewish communal service Eric has been very active with ADL and served as Board Chair of the Pacific Southwest Region from 2014-2016 as well as serving on its National Commission presently. By day, Eric is an employment lawyer working on behalf of workers who have been mistreated or not paid properly. Thalia and Eric have three kids all of whom have graduated from the Day School.
Administrative Vice President: Bill Green
Bill Green and his wife Barbara both grew up in the San Fernando Valley experiencing Jewish life in early Jewish congregations in Van Nuys and North Hollywood. After they got married, they and their children spent many active years active at a North Valley congregation before joining VBS in 2009. Bill became a VBS Board member in 2011, chaired the "Webcomm" Committee, working with VBS Staff to design the current website. Later, he chaired a committee that selected a new membership data management system for VBS. Bill served as Vice President of Adult Jewish Life from 2014 to 2016, working with Rabbi Hoffman to create the Madrichim program, training lay leaders in member outreach skills based on the tenets of "Relational Judaism", and served as Membership-Co Chair under Vice President Ilene Berman for two years. Bill and his wife Barbara are Board Members of the Harold Schulweis Institute,where Bill is responsible for upgrades and maintenance of the website that provides public access to the world's largest digital archive of the works of Rabbi Harold M. Schulweis (z"l). Outside of VBS, Bill is an active member of the Opera League of Los Angeles, serving as a volunteer speaker for LA Opera, and designed the current League website. Professionally, Bill has degrees in Physics and Engineering from UCLA. At JPL and Caltech, Bill managed groups responsible for processing images and scientific data returned from NASA's planetary and earth resources missions, and currently serves on review boards for NASA and JPL, reviewing data processing system designs for NASA astrophysics research missions.

Religion Vice President: Moshe Meppen
Moshe Meppen has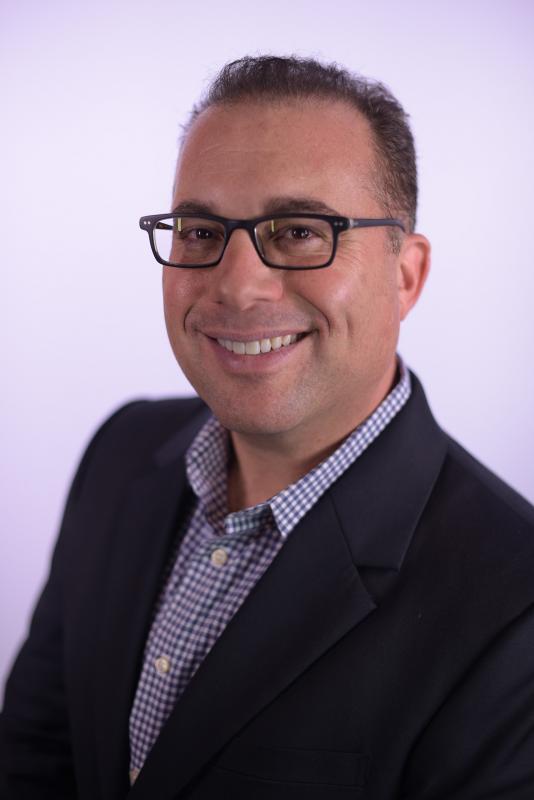 been a VBS member since 2000, and has served on the VBS Board of Directors since 2014. His 3 children graduated from VBS Day School, and together with his wife Debra has been active in the growth of the VBS Day School since 2003, serving on the strategic planning and marketing committees. Moshe serves as the High Holiday Cantor for the VBS Traditional Playground Service and has been the Co-Chair of the VBS Budget Committee for the past 2 years. Professionally, Moshe has been Chief Executive Officer of the biometric technology firm MetaDolce Technologies, Inc. since 2008. He holds a Masters of Business Administration in Marketing and Finance from Pepperdine University and a Bachelor of Arts degree in Political Science from the University of California at Santa Barbara.
Adult Jewish Life Vice President: Heather Binder
Heather Bin
der and her husband David have been members of Valley Beth Shalom for over 10 years. They have three sons, Adam and Benjamin, both Day School graduates, and Samuel (currently at the Day School). Heather was co-president of the young sisterhood, Z'havah, for 7 years and served as Sisterhood Co-President for one year. Heather has held many volunteer positions in the day school, sits on the synagogue board and is honored to be on the Executive Committee. Heather's husband, David, is currently serving on the Day School Board. Prior to being a full time mom, Heather earned a B.S. from UNLV and worked in Catering and Public Relations for the Westin Century Plaza and W Hotel Los Angeles.
Development Vice President: Jeff Goss
Jeff Goss and his family have been
members of VBS for almost 25 years. Jeff has served in various capacities on the Board of Directors and the Executive Committee, currently holding the position of Financial Vice-President. Jeff is a partner at the accounting firm of Miller, Kaplan, Arase & Co., LLP. Jeff's wife, Karen, is a counselor at the VBS Counseling Center and has been an active volunteer at VBS in many capacities. The Goss' children, Matthew and Lauren, both graduated from the VBS ECC and are in college working to make the world a better place.
Education Vice President: Sergio Bicas
Sergio Bicas and
his family have been active members of the VBS community since 2004. In 2014 he joined the Board of Directors and recently became VP of Education. He has three children, who have grown up at VBS starting in the mommy-and-me program, and continuing through the ECC and Day School. Sergio and his wife Tamar Dolgen, who serves on the VBS Day School Board and leads the Development Committee, are passionate about Jewish education and Jewish life. Sergio started the lay-led Playground Minyan traditional egalitarian service in 2007 and regularly leads their Shabbat and High Holiday services. He also serves on the Board of Directors of The L.A. Food Bank and volunteers with Heroes for Life, supporting Israeli soldiers. Sergio Bicas is a serial entrepreneur, investor and executive with over 30 years of extensive global experience in food, pharma and bio-tech, with a specialty in the organic and natural sectors. He is a graduate of Universidad Ibero Americana with a Chemical Engineering degree. Born in Mexico City, Sergio is fluent in Spanish, English and Hebrew, and enjoys the outdoors, cycling and his small organic vegetable garden.
Finance Vice President: Saul Gershkowitz
Saul and his wife Robbie have been VBS members since 1990. They have three children, Bryan, Hanah and Micayla all of whom graduated from from the VBS Harold M. Schulweis Day School. Saul has served on the VBS Board of Directors for many years and has worked on various committees, including co-chair of the Budget Committee. Saul is a partner at the accounting firm Brown, Sterman, Reznik & Gershkowitz APC. Saul's wife Robbie served on the Day School board and ran the temple's Feeding the Homeless program.
Membership Vice President: Ilene Berman
Ilene Berman is a businesswoman and a professional volunteer who originates from Brooklyn, New York. She is the wife of Dennis, mother of sons, Loren and Micah, and the daughter of Myra and Wally (z'l) Shapiro. While growing up in the San Fernando Valley, she belonged to Congregation Beth Kodesh (CBK) where she was active in USY, holding positions as both Jr. and Sr. Presidents. She was her senior class and school's Vice President at Canoga Park High School and is a graduate of Los Angeles Hebrew High School. At UCLA, Ilene graduated in Sociology/Ethnic Studies then worked as USY Director and Camp Counselor for CBK. Her involvement with Valley Beth Shalom Day School includes Chair of the Parent Organization's annual fund-raiser, Grandparent's Day and Lag B'Omar Family picnics. She organized School Board Retreats, served on the Finance and long-range plan committees, has been Recruitment Chair, and was heavily involved in development and marketing of the school. She served as Parent Organization Co-President and concluded her day school service as President of the Board Trustees. She has previously sat on the Valley Beth Shalom Synagogue Board, as well as the Education, House and Grounds, High Holiday Honors and Madrichim committees. Ilene has been Sisterhood's Recording Secretary, Membership and Program Vice President and President. She is currently on the Sisterhood Leadership Council, Day School Board of Trustees and VBS education committee. Ilene has sat on the Solomon Schechter Day School National Board as a Director. She has sat on the Encino Community Council as Educational Representative and has served the Jewish National Fund as Young Families Chair and Community Champaign Chair. Ilene is the recipient of the Jewish Federation Valley Alliance Women's Leadership Award and currently serves on the Women's Philanthropy Board. Ilene looks forward to once again serving the VBS community and hopes to help with financial governance, leadership development, membership retention and continued growth and strength for our congregation​.
Secretary: Corine Hartman
Corine w
as born in Los Angeles and has lived in Sherman Oaks her entire life. She graduated from CSUN with a degree in Speech Communication. After college she attended UCLA Extension where she became a certified paralegal. She realized that her true passion was to become an attorney. She attended University of LaVerne's night program and earned her degree in three years. She works at a private firm downtown as a partner in the General Liability Department handling a myriad of matters for individuals, small business and major corporations. She married her husband, Jonathan in 2000 at Tiferth Israel. They had their first child, Julia, in 2004 and were looking for a synagogue to call their own. They took Julia to the working parents group at the Early Childhood Center at Valley Beth Shalom. It was at this point that they felt at home at VBS. Julia transitioned from the ECC to the Valley Beth Shalom Day School and is now at Milken Community School. Their son Benjamin will graduate from the Day School in 2019.

Day School President: Roslyn Grinberg
Roslyn Grinberg is the current President of the Valley Beth Shalom Day School Board of Trustees. As a 1985 graduate of Valley Beth Shalom Day School and a lifelong member of the synagogue, she is still inspired by her 6th grade hero, Golda Meir. She earned her bachelor's degree at U.C. San Diego and later completed a master's degree in public policy at the University of Southern California. Her career began in Atlanta, Georgia where she worked on a state initiative to reform long term care policy. She eventually moved into the private health care sector at Cohn & Wolfe and then Edelman Public Relations, in New York City, where she led corporate communications initiatives for health care clients. A few years after Roslyn and David were married they decided to move closer to her family in Los Angeles, where she furthered her career in health care communications at Fischer Healthcare Communications and eventually in house at Amgen. Roslyn has served on the board of trustees in various capacities for the past seven years. For the past 3 years she served as the Administrative Vice President. Helping lead the recent Head of School search, she played an active role in taking the school to new heights but she still thinks her job has just begun! Roslyn and David have three children: Ily is a 2016 graduate (currently in 10th grade), Shayna is a 2019 graduated (currently in 7th grade) and Maya is in 4th grade at VBS Day School.
Immediate Past President: Scott Howard
Scott Howard and his family have been members of VBS since 1972.
Scott and his wife Marcie were married at VBS and their three children, Rachel, Leah and Daniel, all attended the ECC and Day School at VBS. Scott has served on the VBS Harold M. Schulweis Day School Board and as an officer for ten years, followed by service on the VBS Synagogue Board and Executive Committee. Marcie has been involved as a paraprofessional at the VBS Counseling Center, along with serving as past President of the San Fernando Valley Council of Na'amat. Scott is involved in other non-profit organizations, including the National Council for AIPAC. Scott is a CPA, and has been a partner in practice with his father Leo for more than 25 years, prior to merging into BPE & H, CPA's in Woodland Hills.
Thu, April 9 2020 15 Nisan 5780