K-6 Programming
K-6 Programming

The VBS Youth Department is proud to bring fun and engaging youth programs for ALL ages, and always deliver plenty of smiling faces! Join the fun! We offer a full year of social engagements both online and in-person.
Past events have included Mad Scientist Parties, Goat Yoga, Ice Skating, Color Wars, Escape Rooms, Laser Tag, Mini Golf, Candy Sushi, Sleepover Lock-Ins, Trivia Nights, Scavenger Hunts and so much more! Events are divided by age groups:
K-3rd Grades
4th & 5th Grades
6th Grade ONLY!
Click here to enroll online >
VBS Members $100/Non-VBS Members $150
or participate a la carte from $5-$30 per event (prices vary)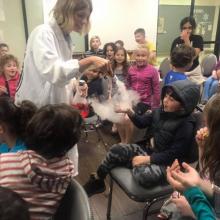 Learn more about our Youth Department Programs past, present and future HERE!
Click here for the Youth Department Enrollment Form >​
---
FAR WEST REGION Medical History and Consent forms
Please CLICK HERE to download the medical history and consent form, fill out and return to Ami Monson or Camryn Kruger.
Sun, August 9 2020 19 Av 5780