Project Pushcart 2022
During the High Holidays, VBS lends support to those in need throughout our greater community.
Bring donations to VBS during Rosh Hashanah, Kol Nidre and Yom Kippur or anytime in between.
Donation bins will be located in the Feit Family Garden at the corner of Densmore and Moorpark. Please place donations in the properly labeled bin with care.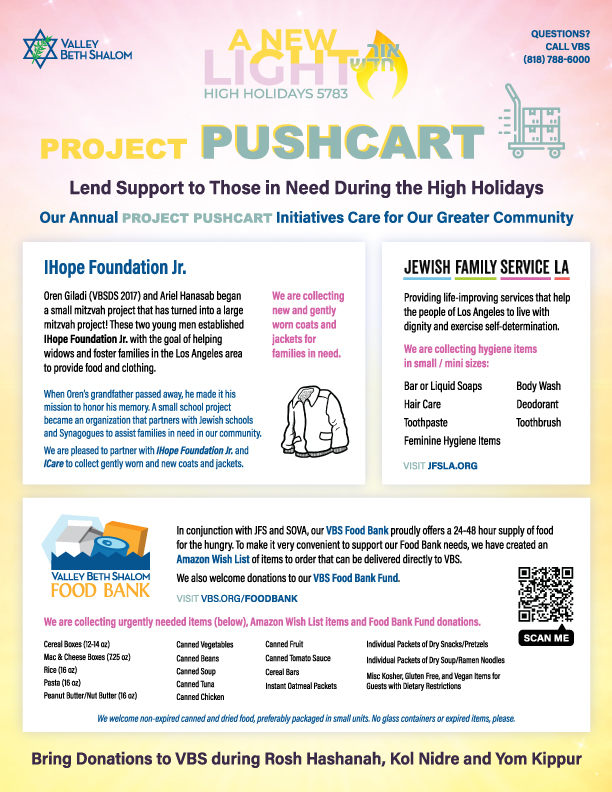 ---
Providing life-improving services that help the people of Los Angeles to live with dignity and exercise self-determination
WE ARE COLLECTING HYGIENE ITEMS in SMALL / MINI SIZES:
Bar or liquid soaps
Body wash
Hair care
Toothpaste
Toothbrush
Feminine hygiene items
Deodorant
---

In conjunction with JFS/SOVA, our Food Bank proudly offers a 24-48 hour supply of food for the hungry. Guests of the Food Bank are referred to us from the City's 211 emergency line and a number of local shelters.
Our VBS Food Bank is open and operating. We are in urgent need of donations. We welcome non-expired canned and dried food, preferably packaged in small units.
Always cognizant of a balanced diet, our grocery bags include a variety of canned meats and/or fish, canned soup, canned or dried fruit and vegetables, pasta, rice, dried milk, cereal and peanut butter.
To make it very convenient to support our Food Bank needs, we have created an Amazon Wish List of items to order that can be delivered directly to VBS. We also welcome donations to our Food Bank Fund.
Urgently needed items include:
Cereal boxes (12-14 oz)
Mac & Cheese Boxes (7.25 oz)
Rice (16 oz)
Pasta (16 oz)
Peanut butter/nut butter (16 oz)
Canned vegetables
Canned beans
Canned soup
Canned tuna
Canned chicken
Canned fruit
Canned tomato sauce
Cereal bars
Instant oatmeal packets
Individual packets of dry snacks/pretzels
Individual packets of dry soup/ramen noodles
Misc Kosher, gluten free, and vegan items for guests with dietary restrictions
Wed, June 7 2023 18 Sivan 5783