Youth Department
VBS Youth Department
Welcome to the VBS Youth Department, a central place for the children and teens of our community to learn, grow, and play together.
The Youth Department provides the youth of our VBS community with opportunities to connect to each other in positive and meaningful ​ways. We offer programming and events for children in grades K-12.
Upcoming Events
Director of Youth Engagement Camryn Kruger
Camp/Israel Scholarship Application
Download the VBS Summer Camp and Israel Financial Aid Application here >
Forms are due February 12, 2021.
Taste of Teen Tuesday/APVBS
Grades 7-12
7th GRADERS ARE INVITED TO JOIN TEEN TUESDAY!!!!
Plus New Teachers & New Electives!
Although we're starting the year digitally, we promise to create a safe alternative on campus as soon as possible! And that time is sooner than you think!
- APVBS with Rabbi Feinstein (11th & 12th Graders)
VBS Members $400 | Non-VBS Members $600 ($200 less than previous years!)
Sign ASAP to RESERVE YOUR SPOT! << CLICK HERE!
Enroll for the year! << CLICK HERE!
VBS Shinshin from Israel!
2020-2021
VBS is happy to announce that for the 2020-2021 School Year, we have our very own Shinshin from Israel! Meet Noga Cohen! She will be working with the Youth Department, VBS Day School, ECLC, ECC and Camp Kef! She's already met some of the 6th Graders and will be teaching a dance class after school thru the Youth Department! Watch the video below and sign up for Dance, Mondays and Thursdays from 4-5pm (K-6 Social Programming) HERE! WATCH HERE<<< Meet Noga!
K-6 After School Programs
The Youth Department is leading a bevy of different classes Monday through Thursday!
or Pay $100 for the ENTIRE YEAR and get Social Programming on weekends, Zoom and In-Person! ENROLL for the ENTIRE YEAR << CLICK HERE!
Teen Tutors for Homework Helpers
September 14 - June 11 from 3-5pm
9th - 12th Graders!!!
We are looking for teens in 9th-12th Grade who are strong students in subjects like English, Science, Math, Hebrew, etc. Teens can choose an hour or two between 3pm-5pm, Monday-Thursday. We will match you with a K-6th Grade Student to meet with via Zoom! Teens receive Community Service Hours *Non-VBS Members Welcome! Sign Up << CLICK HERE!
Enroll for Far West USYfi Fall
Grades 9-12!
This year, Far West USY is launching a DIGITAL ONLY All Access Pass titled, USYfi Fall.
In order to attend Far West USY Programs, you must sign up to become a VBS USY Member as well as USYfi Fall.
Grades 4-8: VBS Members $50 | Non-VBS Members $75 Grades 9-12: VBS Members $85 | Non-VBS Members $115
Learn more about Far West USY HERE!
Sign up to become a member of VBS USY HERE!
Sign up for the All Access Pass USYfi Fall HERE!
B'Nai Mitzvah Project
October 18, 2020
7th & 8th Graders!!!
VBS B'nai Mitzvah students have the opportunity to work together on a Mitzvah Project under the guidance of the Youth Department and Social Action Coordinator, Nitzan Barlev. Individuals may choose an organization or movement and collaborate with one another on a year long project.
While expanding their understanding of various social issues that plague the greater community, students exercise their creativity with their chesed values while developing skills to prepare them for high school and college.
Open to VBS members for $18
*The year will begin digitally and return to the VBS campus when safe.
Enroll Here >> Click Here!
Bachutz
January 2021
6th - 12th Graders!!!
This new program is led by Nick Greene, who is currently on a 5 month trek through the Appalachian Trail! With a focus on wilderness and outdoor education through a Judaic lens, this program is for the adventurous teen looking to explore the great outdoors!
This program incorporates traditions like properly building a fire, seeking water and shelter, learning conservation and protecting our environment. Participants will take day trips to local National Parks and end the year culminating in an overnight experience.
VBS Members $360 | Non-Members $400
Enroll Here >> Click Here!
Nick Greene in Vermont saying hi to VBS Youth!
Teen Programming
September 2020 - June 2021
Grades 7-12!
Sign up for: Social Programming, Teen Tuesday & Bachutz for ONE PRICE!!!
No need to pay per event or per program anymore!
One all inclusive price for the 2020-2021 year!
VBS Members $750 | Non-Members $900
Enroll Here << Click Here!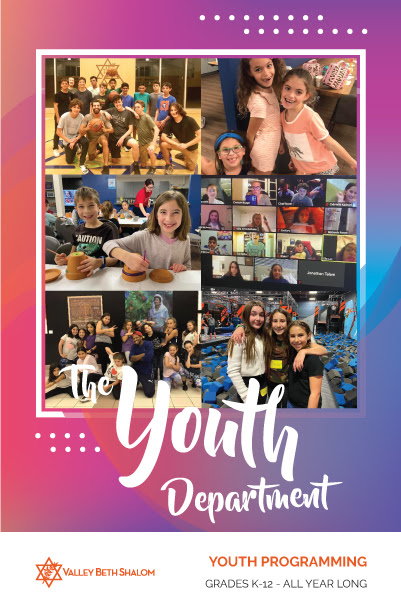 Youth Department Enrollment!
2020-2021
K-12 Graders!
Learn about all of the VBS Youth Department Programs through our Brochure! Programs include:
K-6 After School Programs
K-6 Social Programming
7th Grade B'nai Mitzvah Project Program
Teen Tuesday/APVBS
Teen Social Programming
VBS USY/Far West USY
Bachutz
And so much more!
Download the Youth Department Brochure HERE!
Enrollment Form HERE!
Friends of the VBS Youth Department
Culinary Kids Academy
After School Program
Kids! Culinary Kids Academy is a super fun and educator-created youth cooking enrichment program. In our after-school program, we integrate standards-aligned Math, Sci, History and Lang Arts lessons into real cooking classes for elementary and middle school students. After teaching 150,000+ students in the classroom, we've shifted to a highly successful Zoom program, tested this spring and summer. We are offering five class options via Zoom, Monday through Friday, all from 4 PM - 5 PM. Sessions end the week of December 14th (with a break for Thanksgiving) and the associated fee will be $17.95 per class.
Monday-Friday, 4-5pm
$17.95 per session for 13 weeks
*$100 YD Membership not included
**Refer VBS YD for a chance to win $50 off Membership!
Sign Up HERE!
Partnership Programs
Root One: Voucher for Israel!
RootOne is an ambitious new initiative that aims to help bring tens of thousands of Jewish teens from the US to Israel on immersive summer teen trips. Jewish Organizations have partnered to create a $3,000 voucher towards a trip to Israel for Teens! In order to secure your RootOne Voucher for a trip to Israel next summer, you have to act fast! If you agree to the RootOne Voucher requirements, you can pay your $100 deposit today (refundable until December 31) to secure your spot and claim your $3,000 voucher! Learn more HERE.
Tivnu: Building Justice
College Bound Students! As a Tivnu Gap Year participant, teens will connect Jewish life and social justice through individualized internships, discover the Pacific Northwest, and create a home together in Portland, Oregon. Whether they spend their year advocating for immigrants' rights, growing food in a sustainable community garden, building tiny houses or cooking for houseless Portlanders, they'll know they made a difference. Learn more HERE.
Tikvah Online Academy
11th & 12th Graders!
The Tikvah Fund launched an important new educational initiative for students in grades 7-12: Tikvah Online Academy.
Tikvah Online Academy rounds out Tikvah's very full menu of educational opportunities for Jewish middle and high schoolers. With seminar-style classes taught by leading professors, Tikvah Online Academy offers some of the best educational experiences found anywhere in the Jewish world.
Learn more HERE.
JGirls Magazine
Female Identifying Teens!
Fall Teen Essay Contest!
Today's youth are making their voices heard in powerful ways. We want to hear those voices in the pages of our magazines. To that end, we have partnered with Hadassah Magazine to present a new teen essay contest that will address the subject: How does my Jewishness impact my work for social and racial justice?
Learn more HERE.
Moving Traditions: Teen Feminist Fellowship
Fall Session - High School Students!
Moving Tradition's Kol Koleinu fellowship, offered in collaboration with NFTY and USY, invites young Jewish feminists to explore and deepen their feminist knowledge, channel their voices to share their beliefs, and use their skills to create tangible change in their communities. Open to Jewish high school students nationally, this year-long fellowship brings together teens to learn about gender analysis, feminism and social change, to use their expertise to teach their peers, and to complete projects that share their learning and leadership with their greater Jewish communities.
Learn more HERE.
AJC LFT
Fall Session
High School Students! AJC Los Angeles has begun accepting applications for the 2020-2021 cohort of Leaders for Tomorrow (LFT), our award-winning advocacy training program for high school students. LFT helps high school students develop a strong Jewish identity and trains them to be advocates for Israel and against antisemitism in high school, on their future college campus, and beyond. LFT program is now accepting nominations for its third cohort. LFT is free of charge and gives preference to incoming juniors and seniors. The cohort meets on Sundays once a month from October-May. As a part of the program, LFT leaders will also have the special opportunity to travel to Washington, D.C. to meet with members of Congress, world leaders, and other LFT students from across the country, as well as advocate for issues on Capitol Hill. We typically have students represented from neighborhoods and communities all over Los Angeles County. You can also check out this video for more info.
Apply HERE.
Julie Platt Teen Innovation Grant
Imagine you have an opportunity to do something innovative and exciting...
What would you do? Where would you start?
How might you make a difference on an issue you are passionate about?
How might you impact a community you care about
Funds: This program offers awards up to $1,500 to empower you to play an active role in turning your idea into reality.
Mentorship: You will be paired with a mentor who acts as a thought partner and can offer guidance as you work toward new goals.
Support & Inspiration: You will participate in three workshops during this 6-month program. Our workshops will give you the opportunity to learn, collaborate with other innovative teens, and inspire you as you develop your project.
Sat, February 27 2021 15 Adar 5781