Youth K-6 Programming
K-6 Programming

The VBS Youth Department is proud to bring fun and engaging youth programs for ALL ages, and always deliver plenty of smiling faces! Join the fun! We offer a full year of social engagements both online and in-person.
Past events have included Mad Scientist Parties, Goat Yoga, Ice Skating, Color Wars, Escape Rooms, Laser Tag, Mini Golf, Candy Sushi, Sleepover Lock-Ins, Trivia Nights, Scavenger Hunts and so much more! Events are divided by age groups:
K-3rd Grades
4th & 5th Grades
6th Grade ONLY!
Click here to enroll online >
VBS Members $100/Non-VBS Members $150
or participate a la carte from $5-$30 per event (prices vary)
Afterschool Programming
This year the Youth Department is offering after-school programs for Grades K-6 and volunteer opportunities for Grades 7-12. Programs include Crafting, Book & Netflix Clubs, Dancing Classes, Singing Lessons, Homework Helpers, Outdoor Education and more! Afterschool programming is available to VBS Youth Department Members only.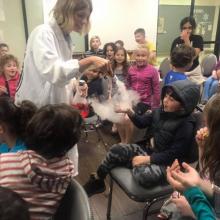 Thu, July 29 2021 20 Av 5781