High Holidays 2022-5783
OR HADASH: A New Light • High Holidays 2022
We Look Forward To Ushering In 5783 With You!
About Our Service Options
Sanctuary Services
Sanctuary Services are held in the Niznick Sanctuary and are led byVBS Clergy withaccompanimentby piano and a professional choir. These services include ourtraditional prayers, reading of the Torah and Rabbi's sermon.
Reserved seating is included with VBS Premier Membership; Remaining seating is open and unassigned
Sephardic Services
Sephardic Services offer traditional Sephardic melodies, led by guest Sephardic Cantors and a Rabbi. These services are held in Sher-Lopaty Chapel.
Seating is open and unassigned
Outdoor Services--MOVED TO MALKIN HALL
Previously known as Playground Minyan, our Malkin Hall Services offer a fuller rendition of the holiday prayers led by VBS Clergy and members of our congregation. Services are held without musical accompaniment. These services include more traditional liturgy and a Rabbi's sermon.
Seating is open and unassigned
Family Services
Family Services will be led by special guest Rabbi Scott Westle in the Levine Community Center. Tot Shofar is tailored for our littlest (preschool-aged) congregants and their families. B'Yachad welcomes elementary school-aged children and families. These lively service options include singing and storytelling.
Seating is open and unassigned
---
PICK UP YOUR HIGH HOLIDAY TICKETS!
The following times will be available for you to pick up your tickets in person via our Pick Up Parties, or you can come to our Main Office during business hours beginning Tuesday, September 20. We strongly encourage you to pick up your tickets ahead of the High Holidays to avoid delays entering the building.
Thursday, September 22 from 4:00-6:30pm
Saturday, September 24 from 10:00am-12:00pm

---
For ticket information please call 213.443.6313.

For those who have not yet renewed VBS membership for 2022-23, we welcome you to join us again this year. We cannot confirm High Holiday ticketing without your completed membership. Please visit vbs.org/renew to log in and renew your membership online.
Beach & Blessings Family Service and Tashlich
Families and friends are invited to participate at our off-site "Beach & Blessings" Service and Tashlich on the Second Day of Rosh Hashanah:
Tuesday, September 27 at 10:00am (Rosh Hashanah Day 2)
415 Pacific Coast Highway, Santa Monica
Adjacent to Annenberg Community Beach House between lifeguard towers 2 and 4
Join Rabbi Scott Westle, Rabbi Noam Raucher and sing with our VBS Family Services Musicians for a casual and meaningful outdoor Rosh Hashanah experience. We will come together for a brief service, shofar blowing and Tashlich. As Jews, our actions speak louder than our words and intentions. Traditionally, we would cast away ("Tashlich") symbolic representations of areas we wish to improve within ourselves. This year, we will turn intention into holy deed, not by casting, but by cleaning our beaches.
Bring your own earth conscious crumbs, shofars and picnic lunch. All are welcome; registration is not required.
CLICK HERE TO HELP PLAN YOUR VISIT TO THIS LOCATION >
---
Tashlich at Lake Balboa
Tuesday, September 27 at 5:00pm (Rosh Hashanah Day 2)
Anthony Beilenson Park • Lake Balboa, 6300 Balboa Boulevard
Cast away your sins (ok, old crumbs!) and begin the year with song and celebration. Bring your dogs for "Tash-leash" – All dogs will receive a special blessing as we celebrate a communal "Bark Mitzvah."
All are welcome; registration is not required.
Protect Our Wildlife
Instead of bread crumbs, we ask you to please bring birdseed, oats, corn, peas, chopped lettuce or seedless grapes cutin half to protect the wildlife from illness and the water from disease.
---
Childcare and Youth Programming
Join VBS for Fun-Filled and Meaningful High Holiday Programming for Our Youngest Congregants 🍎 🍯
Thoughtful and engaging programming alternatives are available for Children, Youth and Teens across three age groupings:
High Holiday Childcare (Ages 2-5) at the VBS ECC – Register here >

Camp Tekiyah High Holiday Youth Programming (K-6) with Rabbi Noam Raucher – Register here >

Holy ViBeS High Holiday Outdoor Experience (Teens) with Camryn Kruger, Director of Youth Engagement – Register here >
Yom Kippur Book Club
Wednesday, October 5
Between Musaf and Mincha (1:00-4:00pm)
Grab your copy of the book HERE
Join us for the first annual Yom Kippur Book Club. This forum will bring the congregation together to discuss a book that has inspired Rabbi Nolan Lebovitz in his preparation for the High Holiday season: Mitch Albom's The Stranger in the Lifeboat.
In this fictional novel, Albom writes about shipwrecked passengers who encounter God in their lifeboat. VBS will also be releasing a recorded dialogue between Mitch Albom and Rabbi Lebovitz before Yom Kippur. In the conversation, Albom discusses how the experience of losing his daughter influenced and informed his portrayal of God.
All are welcome, registration is not required.
Join us at any of the following times to discuss the book. All are welcome, registration is not required.
1:00pm in Bernstein Balcony Seminar Room, led by Sally Weber
2:00pm in the Innovation Lab, led by Phyllis Beim
3:00pm in Bernstein Balcony Seminar Room, led by Jackie Zakowski
3:00pm on Zoom (link to come), led by Elana Feinstein
Project Pushcart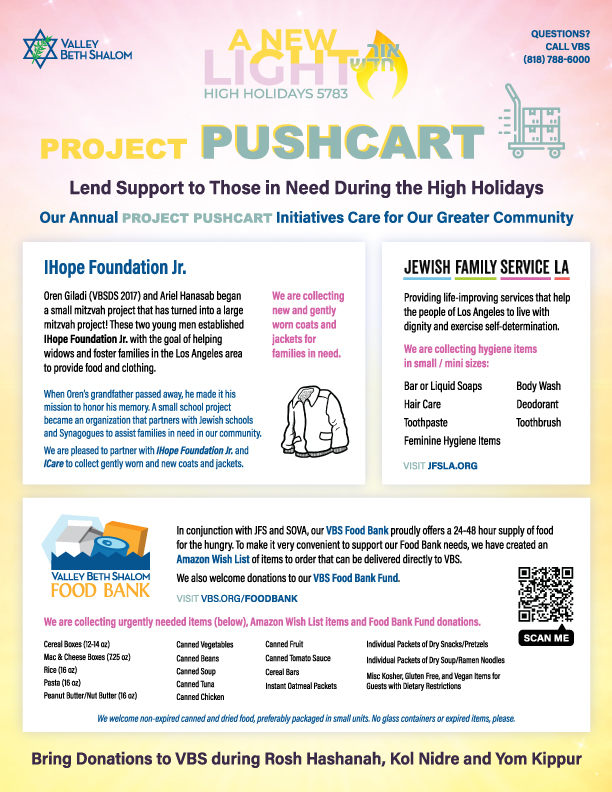 During the High Holidays, VBS lends support to those in need throughout our greater community. Participate in Project Pushcart donations and collections during the High Holidays. Learn more at vbs.org/act.
---
VBS & Chill
Select High Holiday Services will Broadcast via Livestream to VBS TV
Your subscription to our virtual programmingplatform is included with your VBS Membership. Access live service broadcasts on the VBS TV App from your Smartphone, Smart TV, Apple iOS, AppleTV, Roku, Amazon FireTV or AndroidTV.
For 50% discount on a VBS TV annual subscription to share with friends and family 50 miles away or more, please contact Adina Winnett: awinnett@vbs.org.
---
Full High Holiday Service Schedule
Mon, September 26 2022
1 Tishrei 5783
Mon, September 26 2022 1 Tishrei 5783