Year End Giving
Year End Giving

Now is the perfect time to support Valley Beth Shalom. Benefit by giving at year end.
Click Here to make your gift to the Annual Campaign
Why Should I Give?
Valley Beth Shalom reaches out to our community and provides a range of opportunities to ensure our connection to Judaism and to one another. Through our world-renowned clergy we create religious services that enlist our most traditional and spiritual beliefs. Our educators maintain a standard of excellence in our Day School, Etz Chaim Learning Center and Early Childhood Center, teaching our children the joy of learning and preparing them for the future. OurSpaceLA meets the demand for a growing community of children, teens and adults with special needs and unique abilities along with their families and friends. Valley Beth Shalom's affiliates are recognized nationally, our adult education imitated locally and our life-cycle events, which include B'nai Mitzvah and weddings, leave us with memories for a lifetime.
For more than 60 years Valley Beth Shalom has been the spiritual home you have built, nurtured and fostered through your involvement of time, resources and donations. To continue this tradition and to ensure that we can maintain the caliber of religious, cultural and social activities, we need more than your membership dues.
Your gift can make a difference. A gift to the VBS Membership Assistance program will help a family affiliate who cannot afford full dues.
What Should I Give?
Giving several types of gifts is still possible this calendar year – and practical for many donors. These gift suggestions may also serve as sensible strategies beyond the year-end time frame.
GIFTS OF CASH
Nothing is as simple and direct as giving cash. You can make an unrestricted donation and Valley Beth Shalom will apply your gift to the many needs that our budget has not allowed for. Alternatively, you may also designate your gift for a specific purpose. Checks, debit cards or credit cards can be used.
A list of specific VBS funds to which you can donate (and payment options) can be found at vbs.org/donate.
If you are interested in other types of donations, please email our Director of New Building Projects and Major Gifts, Bart Pachino, at bpachino@vbs.org to set up a conversation.
If you are issuing a gift of cash, the effective date of your contribution is the date it is hand-delivered or mailed, or a credit card charge is made. To have it apply as a deduction for 2018, the check must be dated prior to December 31 or a credit card charged by the date.
GIFTS OF SECURITIES
Many VBS members have obtained excellent returns on stock and other investments in 2018. Of course, cashing in your gains comes with a price tag in the form of capital gain taxes. Many charitably minded taxpayers have discovered that they can reduce or even eliminate capital gain tax by using their appreciated investments to fund gifts to Valley Beth Shalom. A well-planned gift of stock to VBS may let you generate an income-tax charitable deduction, based on the full fair-market value of the stock, while allowing you to forego tax on your paper gain.
GIFTS OF LIFE INSURANCE OR LEGACY GIFTS
As you review your year-end financial status, remember that a no-longer needed life insurance policy may be a viable gift. VBS also welcomes legacy gifts and bequests in which VBS is named as one of the beneficiaries of a life policy. Policies that are paid-up contractually may be deductible as gifts for their replacement value, unless that value is greater than the cost basis. Learn more >
DONATE YOUR VEHICLE
Car donation can be a great way to give back to your community. Through our relationship with a local dealer, you will have no costs. VBS can even arrange to tow a car, whether running or not, at no cost to you. We issue you an IRS tax receipt and our dealer partner takes care of DMV and Smog issues without charge. For more information on how to donate your vehicle to VBS, please contact Development Coordinator, Marlene Edenzon at (818) 530-4010. Learn more >
When Should I Give?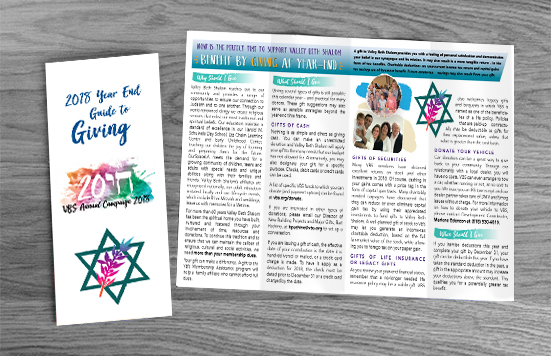 If you itemize deductions this year and complete your gift by December 31, your gift can be deductible this year. If you have taken the standard deduction in the past, a gift in the appropriate amount may increase your deductions above the standard. This qualifies you for a potentially greater tax benefit. View our 2018 Year End Guide to Giving >
Every gift makes a difference. Your support ensures the future of Valley Beth Shalom.
We Can Help
Although a person's reasons for giving are highly personal, it is good to know that the availability of the income tax deduction helps a giving person be even more giving.
As you contemplate the kind of year it has been and your charitable plans for the future, please feel free to call us. Please contact Marlene Edenzon in our Development Department via email: medenzon@vbs.org or our Director of New Building Projects and Major Gifts, Bart Pachino, bpachino@vbs.org. Both can be reached through the VBS main office telephone number (818) 788-6000 as well. We can provide you with additional information on the variety of gift options and tax-savings strategies that are especially suited to giving at year-end.
All conversations are in strict confidence and with no obligation.
Ways to Give
Valley Beth Shalom is grateful for our community of caring and generosity. Your support is what keeps our synagogue and Jewish life thriving! We are a community of dreams. And with big dreams come big responsibilities. With so many different ways to give, it is easier than ever to contribute! Thank you for being a part of our amazing network of community members.
GIVE ONLINE
Our website accepts many types of donations and tribute opportunities. Whether you help support the VBS Food Bank, the VBS Annual Campaign or just sponsor a Kiddish Luncheon - your gift matters! Visit vbs.org/give >
GIVE BY PHONE
For specialized gifts that require more personal attention, such as Vehicle Donation, VBS Endowment gifts or Planned Giving, please contact our Development Coordinator. Your gift matters! Call (818) 530-4010.
GIVE IN PERSON
Stop by our Administrative Office while you're here and make your donation in person. One of our staff members will assist you in selecting and submitting a meaningful contribution. Your gift matters!
Wed, May 27 2020 4 Sivan 5780